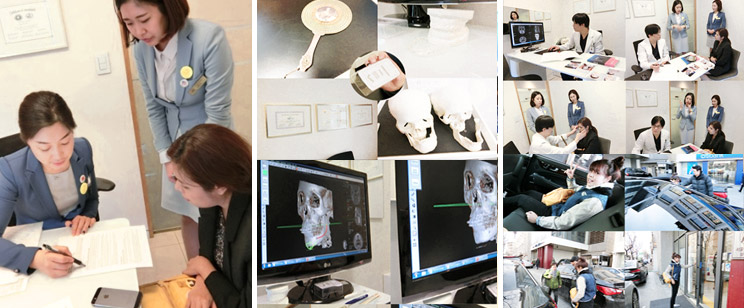 My consultant checked my facial structure first and explained the process and method of the surgery in detail.
She also thoroughly explained to me how my face would change after zygoma reduction, V-line square jaw surgery and V3 lifting.
Then Dr. Ji Hyuck Lee came in to check my face and explained the surgical plan and also explained how much they can reduce my face again.
He kindly explained to me all those things and it made me very relieved. I was really amazed by how much could be reduced.
  They said they would reduce the bone as much as they could in the safest way possible without touching any nerves. I could see the nerve lines through the CT scan. 'V line' is a surgery that includes mandible angle reduction and chin genioplasty. My short chin also can be improved by this surgery.
My doctor recommended me zygoma reduction as well because of asymmetry.
I was hesitant for a while but then decided to have that surgery as well since the asymmetry looked quite severe through the photos.
And then another doctor came into the room for the V3 lifting consultation.
  The doctor explained the V3 lifting procedure.
After the consultation
  1. 4mm will be reduced on one side of my cheekbone and 6mm from the other side.
2. 14mm and 11mm can be reduced by V line surgery. Wow!
3. V3 lifting will be performed after facial contouring surgeries.
  I can go back to Thailand 2 weeks following the surgery date, after I have the stitches removed. They also provide a surgery certificate for the airport immigration, upon request. V line surgery and V3 lifting creates maximum result! They said there might be some asymmetry at first due to swelling.
ID hospital provides car services between my hotel and hospital. Yay!