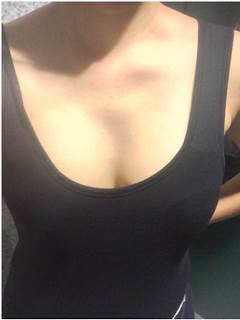 The photo here is a week after the surgery.
Wounds on my both breasts were still healing and I had the sensation of tightness and aching feelings over my chest area.
However regular movement was still bearable and so I ventured out for some simple sightseeing to Insadong and bought some souvenirs!
And even when I took this photo, I couldn't believe I actually went through this breast augmentation.
I avoided wearing tight shirts, bra or carrying heavy things, as it made my chest feel more painful.
To not strain the muscles, I only used small bags and carried least essentials.
So if you are planning to have breast augmentation, I do recommend buying loose clothing, made of satin, silk and soft cotton, as your breasts may feel a bit sensitive to rough materials.
It's a good excuse to spend some money to pamper yourself haha!
I simply and happily shopped new lingerie for myself!