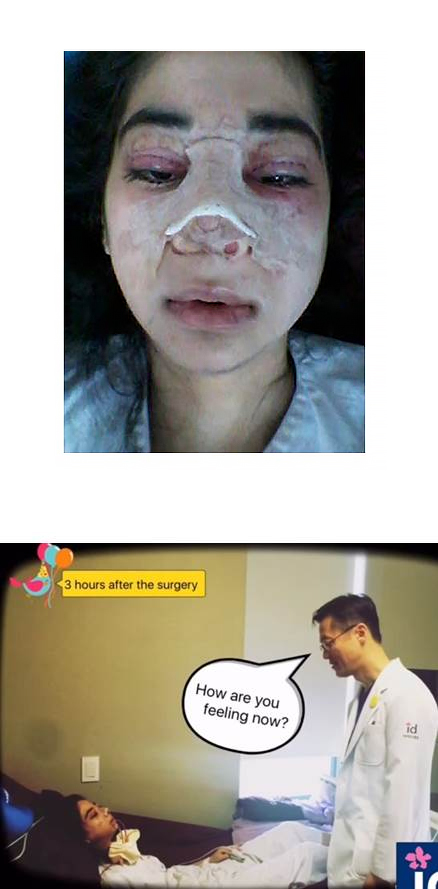 Day 1 right after the surgery:
I remember how I was awaken after the surgery.
Because of the anesthetic, I had no idea of what was going on until the nurse came.
She called my name and asked if I was feeling okay and that was how I realized I was on the bed, at the hospital lol.
For the first six hours after the surgery, I wasn't allowed to drink or eat.
This was the most difficult time for me during the ENTIRE surgical journey, as I was so desperate to swallow any kind of liquid.
Later on six hours, the nurse came into my wardroom and told me that I could drink water.
It was heaven! On the next day, Dr Park walked into the wardroom for a checkup with a huge smile on his face.
This was a big relief for me because until then I wasn't sure if my surgery had gone successfully and I couldn't see my face properly by the swelling from eyelid surgery.
Yeah, so though it was a bit difficult for me to open my eyes, his smile was telling me everything! He sat beside me and explained everything went great and so I don't need to worry about anything.
I was planned to discharge the hospital that day but because I didn't feel well utill then and thought it would be difficult to go back to my apartment in Pyeonchong by myself.
So I asked him if I could stay another night at the ward with the nurses and he agreed straight away! Although I was in a lot of pain still, I felt relieved, as the nurses and surgeons were so warm and kind.