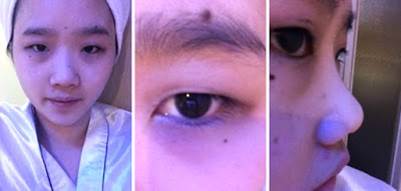 I used to have really small eyes and nose.
my face wasn't really defined well so that was one of the reason why I had smoky eye shadow everyday.
This is my completely bare face.
I did bambi eyelid surgery which includes ptosis correction, epicanthoplasty, lateral canthoplasty, and lateral hotz.
as for my nose, I did the barbie-line surgery for my bridge and nose tip.
Looking at my old pictures, I realized that my face was pretty flat.
I had my consultation with the doctor at ID Hospital, and he told me that I will look so much prettier after the surgery .
so I scheduled my surgery day right away !